Certification
Certification
Superior Wood's commitment to the requirements of the Responsible Wood Certification Scheme for Chain of Custody (CoC) Certification underpins our pledge of only producing sustainable timber products. This scheme and certification assures our products and how we conduct our business meet the stringent requirements of Australian Standard 4707: 2014 –Chain of Custody for Forest Products.
We also commit and ascribe to the requirements of the Australian Wood Packaging Certification Scheme (AWPCS) ensuring we produce wood packaging material that meets the International Standard for Phytosanitary Measures Publication No. 15 – Guidelines for regulating wood packaging material in international trade (ISPM 15) as adopted by the International Plant Protection Convention (IPPC).
These certifications are independently audited annually by Engineered Wood Products Association of Australia (EWPAA) ensuring our promise is delivered to our customers and stakeholders.
Responsible Wood Certification Scheme
The Scheme protects and promotes Australia's unique environments by ensuring a forest industry that is environmentally, socially, culturally and commercially sustainable. It provides guidance and accountability to forest manager, manufacturers and suppliers of timber products.
Download Brochures:
Chain of Custody Certification
This certification is a verified mechanism for tracking forest materials from sustainably managed forests the final product. Chain of Custody Certification is required to substantiate any claim that wood and wood products are obtained from a certified forest. Maintaining certification allows Superior Wood to ethically use the Responsible Wood Logo for the promotion of the scheme and our products.
Australian Wood Packaging Certification Scheme
This certification aims to significantly lessen the risk of unprocessed raw wood used as a pathway for the introduction and spread of pests and diseases in pallets and bearers used in international trade. As a signatory to the IPPC, we are obliged to implement this standard for all export consignments as prescribed by the Department of Agriculture and Water Resources.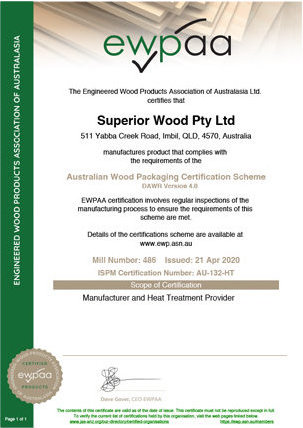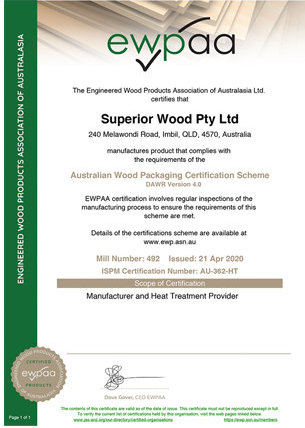 Download Imbil AWPC Certificate